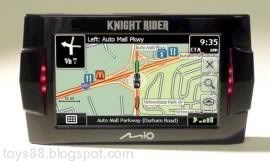 It was bound to happen sooner or later: Generation X nostalgia and modern technology have come together in the Knight Rider Global Positioning System from Mio Technology.
The Knight Rider GPS takes both its sound and style from the 1980s television show about a computerized talking 1982 Pontiac Firebird named KITT.
William Daniels, the actor who was the voice of the sleek black car, narrates the unit's driving directions.
This cool gadget, which sports a black interior and flashing red lights, can be personalized to use one of 300 common names in the greetings and random phrases it utters.
Weighing at about six ounces, this cool gadget also have a 4.3in color screen.
Fans of the show would probably want to get it before a retooled version of the Knight Rider TV show crashes back onto the airwaves with Val Kilmer cast as the new voice of KITT.
Video of this
cool gadget