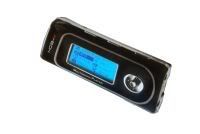 FEELING inspired to sing your favourite songs but just don't have the time to head down to the local karaoke bar? No problem. Hardware retailer Basic Command Sdn Bhd has introduced the Mobi-K — a portable media player that acts as an all-in-one multimedia device with a built-in karaoke feature.
As a media player, the Mobi-K is capable of playing MP3 music files and video files encoded in MPEG4 format. It can also display pictures and videos when plugged to TV.
Unlike most media players, the Mobi-K does not rely on internal memory storage but uses microSD memory cards.
It is also a mobile karaoke station that you can bring along anywhere you go. Karaoke songs can be played through the device when in mobile mode, with lyrics shown on the device.
Alternatively, users can hook up the Mobi-K to a TV and sing along to songs using the included microphone. On the TV screen, you'll get the lyrics as well as a choice of picture slideshow or video playing in the background.
It comes preloaded with 1,000 MIDI-format song titles. If you need more songs, store them on microSD cards.
Other features include a built-in FM radio receiver and transmitter that allows users to connect with any FM tuner, such as a car radio.
More on Mobi-K at www. mobi-k. my